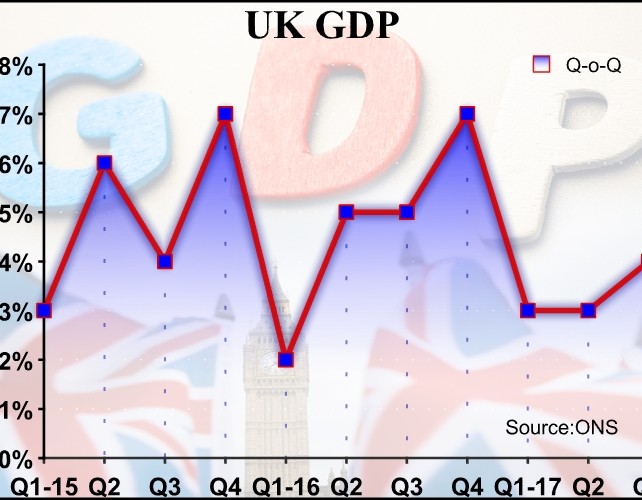 The UK economy grew at a slightly faster pace as initially estimated in the third quarter, but higher inflation and real pay squeeze weighed on consumer spending.
Gross domestic product expanded 0.4 percent sequentially in the third quarter, faster than the 0.3 percent growth seen in the first two quarters of 2017, the Office for National Statistics reported Friday.
The statistical office confirmed the second estimate published on November 23.
On a yearly basis, GDP advanced 1.7 percent in the third quarter, up from the previous estimate of 1.5 percent.
The expenditure-side breakdown showed that the strongest contribution to the growth came from household consumption.
Household spending grew 0.5 percent in the third quarter as consumers reduced their savings for future amid high inflation. However, consumption logged an annual growth of 1 percent, the weakest since the first quarter of 2012.
Ruth Gregory, an economist at Capital Economics, said that consumers should be able to ride out the real pay squeeze fairly well.
And it should not be too long before real earnings start to rise again as inflation falls back, putting consumer spending on a much firmer footing next year, the economist added.
Data showed that government expenditure declined 0.2 percent instead of 0.3 percent increase estimated previously.
Gross fixed capital formation rose 0.3 percent to GBP 82.3 billion, which was revised up from 0.2 percent. Business investment climbed by a revised 0.5 percent to GBP 45.9 billion.
The net trade deficit widened slightly to GBP 7.83 billion, in volume terms, from GBP 7.67 billion in the second quarter.
At the same time, services remained the strongest contributor to growth in the output approach to GDP, which gained 0.4 percent quarterly.
Farm output rose 0.8 percent and production by 1.3 percent. Meanwhile, construction shrank 0.5 percent.
Another report from the ONS revealed that services output rose 0.3 percent in the three months to October from the quarter ending July. The index of services gained 0.2 percent in October from September.
In a separate communique, the ONS said the current account deficit narrowed to GBP 22.8 billion from GBP 25.8 billion in the second quarter. The decline was driven by the decrease in deficits on primary and secondary income and total trade.
by RTT Staff Writer
For comments and feedback: editorial@rttnews.com
Business News