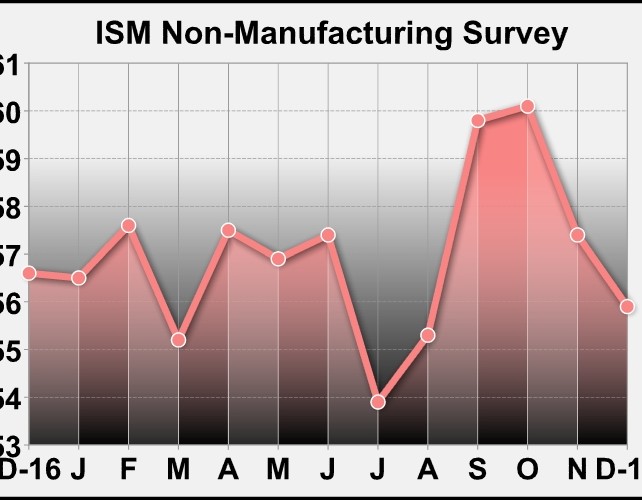 For the second consecutive month, the Institute for Supply Management has released a report showing a slowdown in the pace of growth in activity in the U.S. service sector.
The ISM said Friday that its non-manufacturing index dropped to 55.9 in December after falling to 57.4 in November.
While a reading above 50 still indicates growth in the service sector, economists had expected the index to inch back up to 57.6.
Nonetheless, Anthony Nieves, Chair of the ISM Non-Manufacturing Business Survey Committee, said the majority of respondents' comments indicate they finished the year on a positive note.
The unexpected decrease by the headline index reflected notably slower growth in business activity and new orders.
The business activity index slumped to 57.3 in December from 61.4 in November, while the new orders index tumbled to 54.3 from 58.7.
On the other hand, the ISM said the employment index edge up to 56.3 in December from 55.3 in November, suggesting a faster rate of job growth.
The data represents a stark contrast from the Labor Department report released earlier in the day, which said job growth in the service sector slowed to just 91,000 jobs in December from 176,000 jobs in November.
The report said the prices index also inched up to 60.8 in December from 60.7 in November, indicating a slightly faster rate of price growth.
The ISM released a separate report on Wednesday showing growth in manufacturing activity unexpectedly accelerated in December, reflecting strong expansions in new orders and production
The purchasing managers index rose to 59.7 in December from 58.2 in November, while economists had expected the index to edge down to 58.1.
by RTT Staff Writer
For comments and feedback: editorial@rttnews.com
Forex News