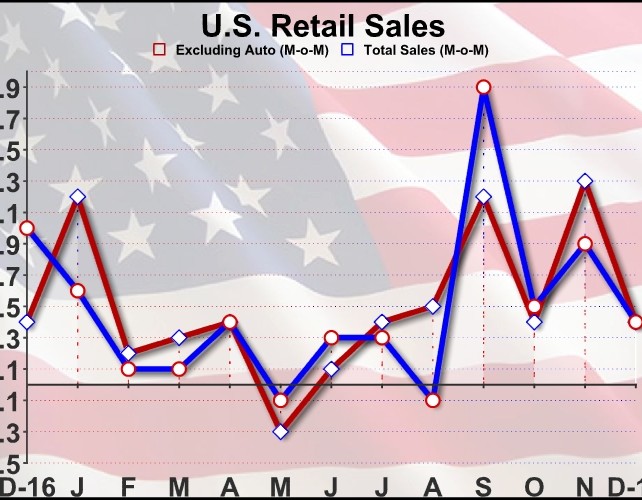 A report released by the Commerce Department on Friday showed U.S. retail sales rose in line with economist estimates in the month of December.
The Commerce Department said retail sales increased by 0.4 percent in December after climbing by an upwardly revised 0.9 percent in November.
Economists had expected retail sales to rise by 0.4 percent compared to the 0.8 percent increase originally reported for the previous month.
The increase in retail sales was partly due to 1.2 percent sales growth at both building material and supplies dealers and non-store retailers.
Sales by motor vehicle and parts dealers also edged up by 0.2 percent in December after tumbling by 1.0 percent in November.
On the other hand, the report showed steep drops in sales by miscellaneous store retailers, sporting goods, hobby, book and music stores, and department stores.
Excluding auto sales, retail sales still rose by 0.4 percent in December after jumping by 1.3 percent in November. The increase in ex-auto sales also matched estimates.
Closely watched core retail sales, which exclude automobiles, gasoline, building materials and food services, increased by 0.3 percent in December after spiking by an upwardly revised 1.4 percent in November.
"Overall, the pace of consumer spending clearly accelerated quite sharply in the final quarter of last year," said Andrew Hunter, U.S. Economist at Capital Economics.
He added, "Furthermore, the improving labor market, robust consumer confidence and the boost to disposable incomes from the recently enacted tax cuts suggest that spending will continue to grow at a healthy pace over the first half of this year as well."
Compared to the same month a year ago, retail sales were up by 5.4 percent in December, reflecting a deceleration from the 6.0 percent year-over-year growth in November.
by RTT Staff Writer
For comments and feedback: editorial@rttnews.com
Business News