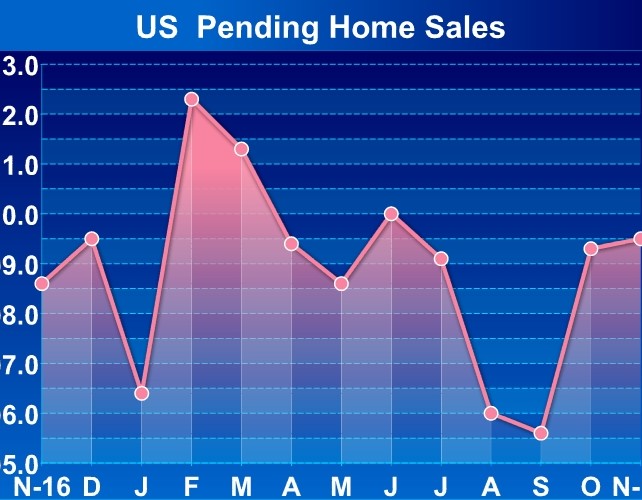 Pending home sales in the U.S. unexpectedly showed a modest increase in the month of November, according to a report released by the National Association of Realtors on Wednesday.
NAR said its pending home sales index inched up by 0.2 percent to 109.5 in November after surging up by 3.5 percent to 109.3 in October. Economists had expected pending home sales to dip by 0.5 percent.
A pending home sale is one in which a contract was signed but not yet closed. Normally, it takes four to six weeks to close a contracted sale.
With the unexpected uptick, the pending home sales index reached its highest level since hitting 110.0 in June. The index is also up by 0.8 percent year-over-year.
NAR chief economist Lawrence Yun said, "The housing market is closing the year on a stronger note than earlier this summer, backed by solid job creation and an economy that has kicked into a higher gear."
"However, new buyers coming into the market are finding out quickly that their options are limited and competition is robust," he added.
The unexpected increase in pending home sales was partly due to a jump in the Northeast, where pending home sales surged up by 4.1 percent.
Pending home sales in the Midwest also rose by 0.4 percent, while pending sales slumped by 1.8 percent in the West and fell by 0.4 percent in the South.
Yun forecasts for existing home sales to finish 2017 at around 5.54 million, reflecting an increase of 1.7 percent from 5.45 million in 2016. The national median existing home price is expected to climb by around 6 percent this year.
For 2018, Yun anticipates a 0.4 percent drop in existing home sales to 5.52 million, while price growth is expected to moderate to around 2 percent.
NAR released a separate report last Wednesday showing another jump in existing home sales in the month of November.
The report said existing home sales soared by 5.6 percent to an annual rate of 5.81 million in November from an upwardly revised 5.50 million in October.
Economists had expected existing home sales to rise to a rate of 5.52 million from the 5.48 million originally reported to the previous month.
With the much bigger than expected increase, existing home sales reached their highest level since hitting 6.42 million in December of 2006.
by RTT Staff Writer
For comments and feedback: editorial@rttnews.com
Business News