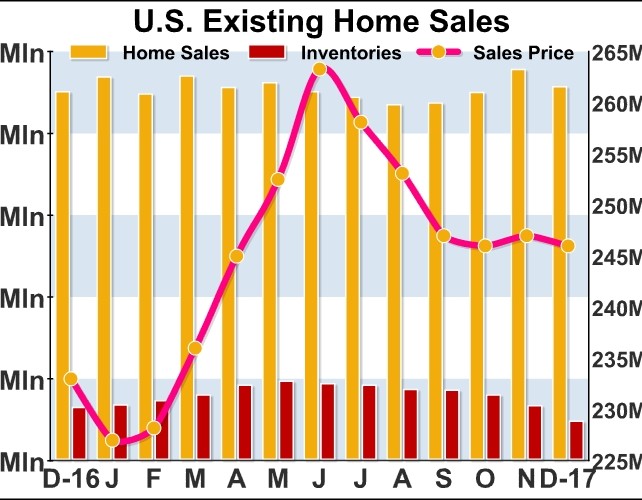 Existing home sales in the U.S. pulled back by more than anticipated in the month of December, according to a report released by the National Association of Realtors on Wednesday.
NAR said existing home sales tumbled by 3.6 percent to an annual rate of 5.57 million in December after jumping by 5.1 percent to a revised 5.78 million in November.
Economists had expected existing home sales to drop to a rate of 5.70 million from the 5.81 million originally reported for the previous month.
The bigger than expected decrease came after existing home sales jumped to highest rate in nearly eleven years in November.
"Existing sales concluded the year on a softer note, but they were guided higher these last 12 months by a multi-year streak of exceptional job growth, which ignited buyer demand," said NAR chief economist Lawrence Yun.
"At the same time, market conditions were far from perfect," he added. "New listings struggled to keep up with what was sold very quickly, and buying became less affordable in a large swath of the country. These two factors ultimately muted what should have been a stronger sales pace."
The report also said the median existing home price in December was $246,800, up 5.8 percent from $233,300 in the same month a year ago.
Total housing inventory plunged by 11.4 percent to 1.48 million existing homes available for sale at the end of December, representing 3.2 months of supply at the current sales pace.
NAR said single-family home sales fell by 2.6 to an annual rate of 4.96 million, while existing condominium and co-op sales plummeted by 11.6 percent to a rate of 610,000.
On Thursday, the Commerce Department is scheduled to release a separate report on new home sales in the month of December. New home sales are expected to slump by 7.9 percent.
by RTT Staff Writer
For comments and feedback: editorial@rttnews.com
Forex News