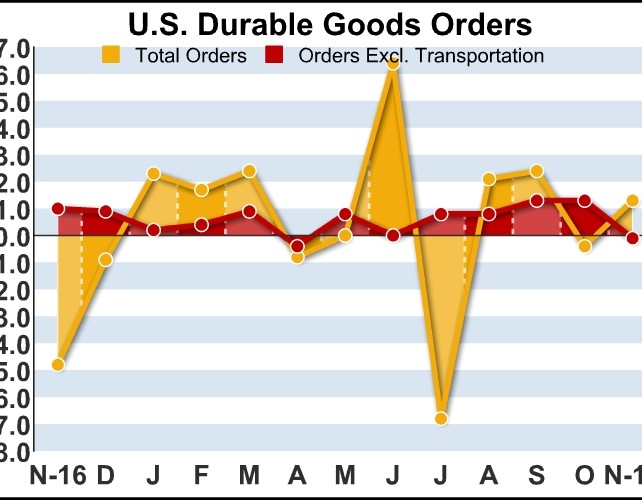 New orders for U.S. manufactured durable goods showed a notable increase in the month of November, according to a report released by the Commerce Department on Friday.
The Commerce Department said durable goods orders surged up by 1.3 percent in November after falling by a revised 0.4 percent in October.
The increase in orders came in below economist estimates for a 2.0 percent jump, although the revised drop in the previous month was much smaller than the 0.8 percent decrease that had been reported.
Volatile orders for transportation equipment led the way back to the upside, spiking by 4.2 percent in November after tumbling by 4.7 percent.
Orders for defense aircraft and parts and non-defense aircraft and parts soared by 11.9 percent and 14.5 percent, respectively after showing notable decreases in the previous month.
Excluding the rebound in orders for transportation equipment, durable goods orders edged down by 0.1 percent in November after spiking by a revised 1.3 percent in October.
Ex-transportation orders had been expected to climb by 0.5 percent compared to the 0.9 percent increase that had been reported for the previous month.
Increases in orders for primary metals and electrical equipment, appliances and components were offset by decreases in orders for machinery and computers and electronic products.
The report said orders for non-defense capital goods excluding aircraft, an indicator of business spending, dipped by 0.1 percent in November after climbing by a revised 0.8 percent in October.
"Overall, the data suggest that the resurgence of business equipment investment may now be starting to fade, but that was probably inevitable given the rapid growth seen so far this year," said Andrew Hunter, U.S. economist at Capital Economics.
He added, "In any case, with industrial capacity utilization on an upward trend again and most capex intentions surveys still at a strong level, any slowdown in business investment over the coming months is likely to be gradual."
by RTT Staff Writer
For comments and feedback: editorial@rttnews.com
Forex News