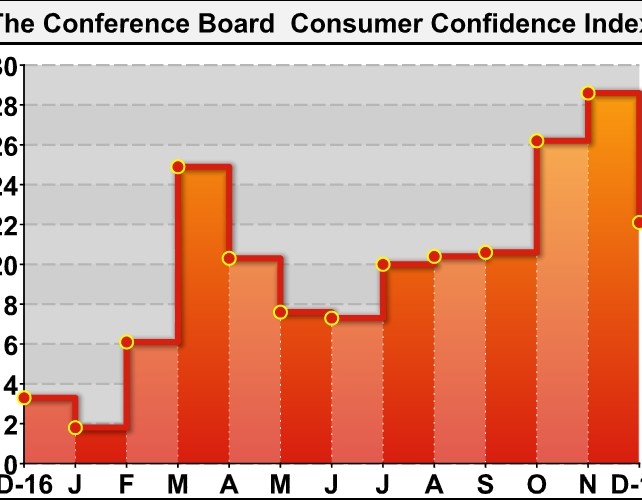 After reporting an unexpected improvement in U.S. consumer confidence in the previous month, the Conference Board released a report on Wednesday showing a much bigger than expected pullback in confidence in the month of December.
The Conference Board said its consumer confidence index slumped to 122.1 in December from a downwardly revised 128.6 in November.
Economists had expected the consumer confidence index to edge down to 128.0 from the 129.5 originally reported for the previous month.
The bigger than expected decrease by the consumer confidence index came after it reached its highest level in seventeen years in November.
"The decline in confidence was fueled by a somewhat less optimistic outlook for business and job prospects in the coming months," said Lynn Franco, Director of Economic Indicators at the Conference Board.
The report said the expectations index tumbled to 99.1 in December from 111.0 in November, as consumer optimism about the short-term outlook declined sharply.
The percentage of consumers expecting business conditions to improve over the next six months fell to 20.2 percent from 23.1 percent, and the percentage expecting conditions to worsen rose to 9.2 percent from 6.7 percent.
Consumers' outlook for the job market was also less upbeat, as the percentage expecting more jobs in the months ahead dropped to 18.4 percent from 21.3 percent, while those anticipating fewer jobs climbed to 16.3 percent from 12.1 percent.
Meanwhile, the report showed a modest improvement in consumers' assessment of current conditions, with the present situation index rising to 156.6 in December from 154.9 in November.
The percentage of consumers saying business conditions are "good" crept up to 35.2 percent from 35.0 percent, while the percentage saying conditions are "bad" edged down to 12.1 percent from 12.3 percent.
The Conference Board said consumers' assessment of the labor market was mixed. Those claiming jobs are "plentiful" decreased to 35.7 percent from 37.5 percent, but those claiming jobs are "hard to get" also dipped to 15.2 percent from 16.8 percent.
"Despite the decline in confidence, consumers' expectations remain at historically strong levels, suggesting economic growth will continue well into 2018," said Franco.
by RTT Staff Writer
For comments and feedback: editorial@rttnews.com
Business News