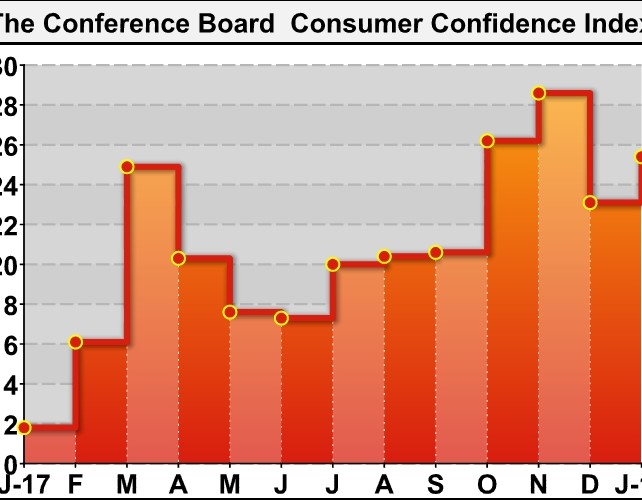 Consumer confidence in the U.S. rebounded by more than expected in the month of January, according to a report released by the Conference Board on Tuesday.
The Conference Board said its consumer confidence index climbed to 125.4 in January from an upwardly revised 123.1 in December.
Economists had expected the consumer confidence index to rise to 123.6 from the 122.1 originally reported for the previous month.
The bigger than expected increase by the headline index came as the expectations index jumped to 105.5 in January from 100.8 in December.
The percentage of consumers anticipating business conditions to improve over the next six months edged up to 22.0 percent from 21.6 percent, while those expecting business conditions to worsen inched up to 9.8 percent from 9.0 percent.
Meanwhile, the report said the present situation index dipped to 155.3 in January from 156.5 in the previous month.
The percentage of consumers saying business conditions are "good" edged down to 34.9 percent from 35.8 percent, while those saying business conditions are "bad" crept up to 12.7 percent from 11.7 percent
"Consumers' assessment of current conditions decreased slightly, but remains at historically strong levels," said Lynn Franco, Director of Economic Indicators at The Conference Board.
She added, "Expectations improved, though consumers were somewhat ambivalent about their income prospects over the coming months, perhaps the result of some uncertainty regarding the impact of the tax plan."
by RTT Staff Writer
For comments and feedback: editorial@rttnews.com
Business News