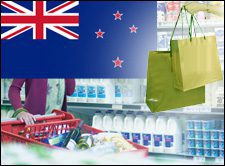 The total number of building permits issued in New Zealand tumbled a seasonally adjusted 9.6 percent on month in December, Statistics New Zealand said on Friday – standing at 2,169.
That follows the 9.6 percent spike in November.
For houses only, the seasonally adjusted number fell 2.3 percent on month, marking the fifth consecutive fall.
Individually, permits were issued for 1,424 stand-alone houses, 330 townhouses, flats, and units, 240 apartment units and 175 retirement village units.
The non-residential building types with the highest value movements were: social, cultural, and religious buildings – up NZ$257 million to NZ$630 million; hotels, motels, and other short-term accommodation – up NZ$208 million to NZ$457 million; factories and industrial buildings – up NZ$193 million to NZ$662 million; and education buildings – down NZ$202 million to NZ$1.0 billion.
"The increase in hotels, motels, and other short-term accommodation consented coincides with a rise in international visitors," construction statistics manager Melissa McKenzie said. "Hotels in Auckland, Wellington, Christchurch, and the Queenstown-Lakes district have contributed to this increase."
By region, Auckland saw the most approvals issued with 876, followed by Canterbury at 298 and Waikato at 205.
by RTT Staff Writer
For comments and feedback: editorial@rttnews.com
Economic News
What parts of the world are seeing the best (and worst) economic performances lately? Click here to check out our Econ Scorecard and find out! See up-to-the-moment rankings for the best and worst performers in GDP, unemployment rate, inflation and much more.