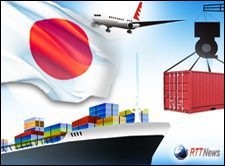 Japan posted a merchandise trade surplus of 358.971 billion yen in December, the Ministry of Finance said on Wednesday – down 43.5 percent on year.
The headline figure was shy of expectations for a surplus 520.0 billion yen following the 113.4 billion yen surplus in November.
Exports climbed 9.3 percent on year to 7.302 trillion yen, also missing forecasts for a gain or 9.8 percent and down from 16.2 percent in the previous month.
Exports to Asia advanced 9.9 percent on year to 4.111 trillion yen, while exports to China alone jumped an annual 15.8 percent to 1.507 trillion yen.
Exports to the United States gained 3.0 percent on year to 1.411 trillion yen and exports to the European Union jumped an annual 11.4 percent to 792.213 billion yen.
Imports advanced an annual 14.9 percent to 6.943 trillion yen versus expectations for a gain of 12.4 percent and down from 17.2 percent a month earlier.
Imports from Asia climbed 15.7 percent on year to 3.379 trillion yen, while imports from China alone gained an annual 14.8 percent to 1.704 trillion yen.
Imports from the United States were up 7.5 percent to 699.419 billion yen, while imports from the European Union gained 9.8 percent to 786.388 billion yen.
Also on Wednesday, the latest survey from Nikkei said that the manufacturing sector in Japan continued to expand in January, and at an accelerated rate, with a manufacturing PMI score of 54.4.
That's up from 54.0 in December, and it moves further above the boom-or-bust line of 50 that separates expansion from contraction.
Individually, output expanded at the quickest rate in 47 months, while new orders continued to rise sharply.
Inflationary pressures intensified.
by RTT Staff Writer
For comments and feedback: editorial@rttnews.com
Economic News
What parts of the world are seeing the best (and worst) economic performances lately? Click here to check out our Econ Scorecard and find out! See up-to-the-moment rankings for the best and worst performers in GDP, unemployment rate, inflation and much more.