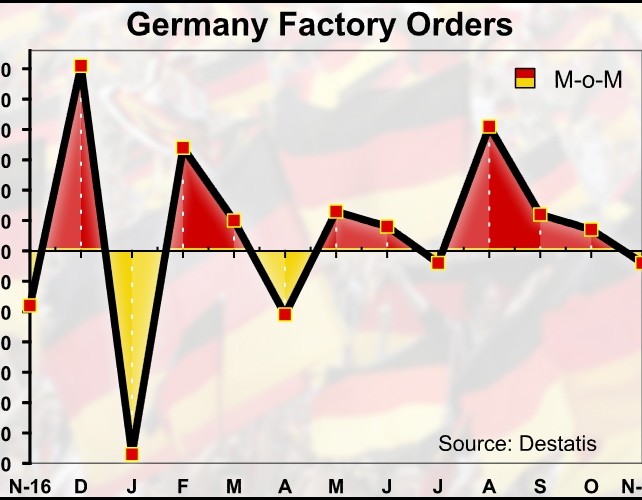 Germany's factory orders declined for the first time in four months in November as both domestic and foreign demand deteriorated.
Factory orders decreased by a larger-than-expected 0.4 percent month-on-month, reversing a revised 0.7 percent rise in October, data from Destatis revealed Monday.
Orders were forecast to drop 0.2 percent and this was the first decrease in orders since July.
Excluding major orders in manufacturing, new orders grew 1.8 percent from the previous month.
Domestic and foreign orders fell 0.4 percent and 0.5 percent, respectively. New orders from the euro area climbed 0.7 percent, while that from other countries decreased 1.2 percent.
Orders for intermediate goods climbed 2 percent and demand for consumer goods gained 3.2 percent. Meanwhile, demand for capital goods showed a decline of 2.3 percent.
In November, fluctuations in major orders were the main reason for the negative result, the economy ministry said.
Overall orders in the second half of 2017 developed extremely dynamically. This lays the foundation for a strong start to the year in industry, the ministry noted.
On a yearly basis, industrial orders expanded 8.7 percent in November, faster than the 8.4 percent increase economists had forecast.
Data showed that manufacturing turnover increased 4.6 percent on a monthly basis in November, in contrast to a 2.1 percent decrease in October.
In fact, the decrease in orders came after three consecutive increases and is rather of a technical nature than any sign of weakness, Carsten Brzeski, an ING economist, said.
With inventories low and capacity utilization at its highest level since 2008, there is little reason to get concerned, the economist noted. The general trend for industrial production in Germany remains positive.
Destatis is slated to publish industrial output figures on January 9. Economists forecast production to grow 1.8 percent in November.
by RTT Staff Writer
For comments and feedback: editorial@rttnews.com
Business News