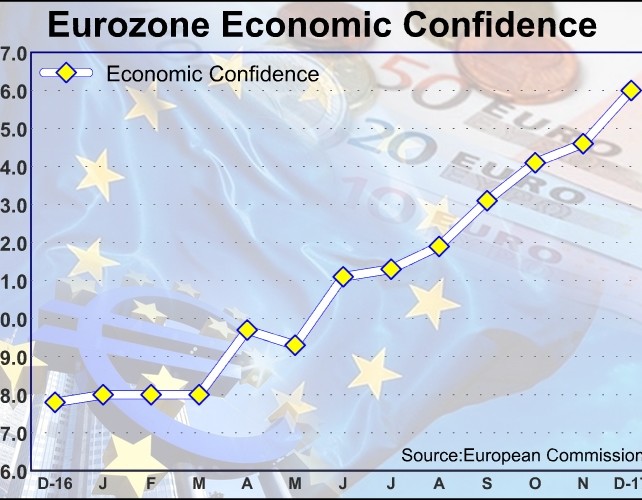 Eurozone economic confidence strengthened further in December, reaching its highest level seen since late 2000.
The economic confidence index rose more-than-expected to 116 from 114.6 in November, survey results from the European Commission showed Monday. This was the highest reading since October 2000 and above the forecast of 114.7.
Industry confidence continued the rally it had embarked upon last autumn, thanks to managers' higher production expectations and improved appraisals of overall order books and the stocks of finished products.
The corresponding indicator climbed to 9.1 in December from 8.1 a month ago. The expected score was 8.4.
Likewise, the consumer sentiment index improved to 0.5 from zero in the previous month. The reading came in line with the flash estimate. The improvement largely reflected households' more optimistic assessment of future unemployment.
The construction sentiment index rose to 2.7 from 1.5 in the previous month. The increase in construction confidence was fueled by upward revisions in managers' employment expectations, while their assessment of the level of order books remained broadly unchanged.
The upsurge in services confidence resulted from managers' markedly improved views on all three components of the indicator namely past and expected demand, and the past business situation. The index improved to 18.4 from 16.4 in the previous month.
At the same time, the retail trade sentiment indicator climbed to 6.2 from 4.3 in November. Higher retail trade confidence resulted from a strong improvement in managers' views on the present business situation and the adequacy of the volume of stocks.
Data from Eurostat showed that retail sales rebounded 1.5 percent in November from October, when they fell 1.1 percent. The latest sales growth was the fastest since October 2016.
Another report from the European Commission showed that the business confidence index rose to 1.66 in December, the highest since 1985, from 1.49 in the previous month. The score was seen at 1.5.
Managers' appraisals of overall order books, stocks of finished products and past and future production improved. By contrast, managers' assessment of the export order books remained broadly unchanged in December.
While today's data suggest that there might be upside risks to already above-consensus forecast for Eurozone GDP growth of 2.3 percent this year, Stephen Brown, an economist at Capital Economics, doubt that this will prompt the European Central Bank to alter its dovish stance.
The economist expects the bank to end its asset purchases in December 2018, then wait until September 2019 before raising interest rates.
by RTT Staff Writer
For comments and feedback: editorial@rttnews.com
Business News