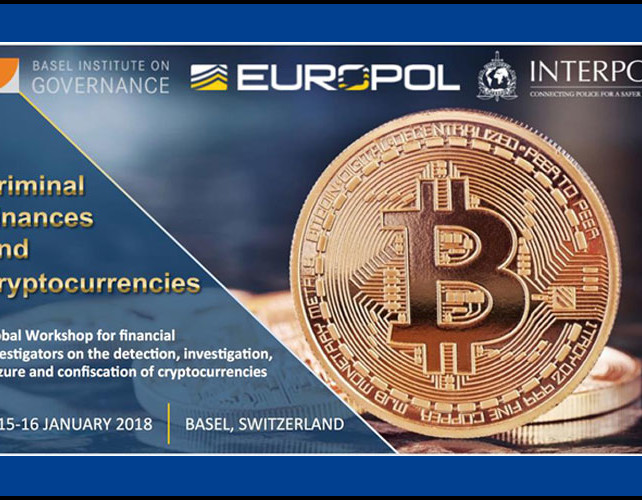 Europol and Interpol have agreed upon a range of measures designed to ramp up efforts to combat the misuse of cryptocurrencies by criminals and terrorist financiers to launder money and support other criminal activities.
A two-day international workshop involving financial investigators, lawyers, regulators and other specialists in anti-money laundering, cybercrime and financial intelligence was jointly organized by the Basel Institute on Governance, Europol and Interpol in Basel, Switzerland.
The workshop is the fourth of a series of annual meetings hosted by the Working Group on Digital Currencies to gather and analyse information on the use of digital currencies by criminals and to develop strategies for the investigation and recovery of digital criminal proceeds.
A new training module to help investigators analyze blockchains, follow transactions through virtual currency, address exchanges based in foreign jurisdictions, and identify and seize cryptocurrency was presented in the workshop.
The workshop endorsed the following agreements:
Countries should increase information sharing through Interpol, Europol, the Egmont Group and FIU channels; Training opportunities for regulators, prosecutors, judges, FIU experts, investigators and other relevant partners should be offered by the three co-organisers and other external sources; Cryptocurrencies Exchangers and Wallet Providers should be regulated under existing Anti Money Laundering and Counter Terrorism Financing Legislation; Action must be taken against services such as Mixers or Tumblers which are exclusively designed to anonymise transactions and make it impossible for law enforcement to detect and trace suspicious transactions; and Consider the creation of the offense of illicit enrichment to support money laundering investigations, convictions and confiscations.
Europol said in a statement that with cryptocurrencies increasingly used to finance criminal activities including terrorism, it will continue to coordinate across EU Member States and beyond to effectively respond to this rising threat.
In July last year, two of the largest criminal Darknet marketplaces — AlphaBay and Hansa, which had accepted cryptocurrencies, were shut down with the support of Europol.
A bill was introduced in US Congress earlier this month proposing the creation of a new task force to researching and develop policy to combat the financing of terrorism through the use of cryptocurrencies.
A recent report had claimed to have identified four instances of terrorism-linked groups soliciting donations in the form of bitcoin.
by RTT Staff Writer
For comments and feedback: editorial@rttnews.com
Forex News