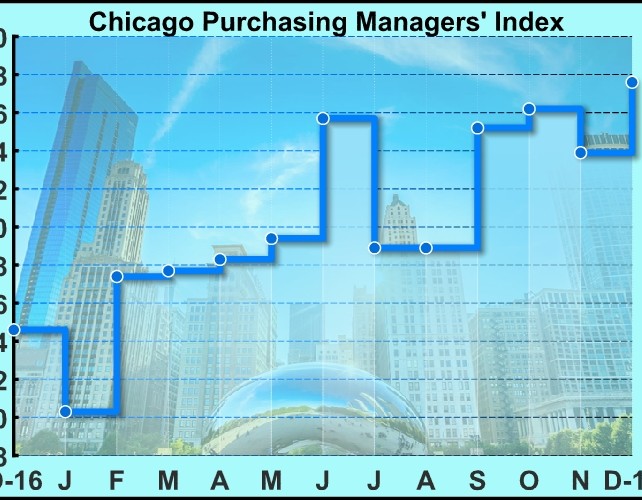 Chicago-area business activity unexpectedly expanded at a faster rate in the month of December, MNI Indicators revealed in a report on Thursday.
MNI Indicators said its Chicago business barometer climbed to 67.6 in December from 63.9 in November, with a reading above 50 indicating growth.
The increase surprised economists, who had expected the business barometer to drop to 62.0. The unexpected advance lifted the index to its highest level since March of 2011.
Stronger growth in both output and demand contributed to the unexpected increase by the business barometer, with the production index and the new orders index each rising to multi-year highs.
The production index rose to its highest level in thirty-four years, while the new orders index reached a three-and-a-half year high.
MNI Indicators said the order backlogs index also increased, while the employment index and the supplier deliveries index fell on the month.
"Sentiment among businesses started 2017 in good shape and only impressed more as the year progressed," said Jamie Satchi, Economist at MNI Indicators.
Satchi added, "December's result secured the MNI Chicago Business Barometer's first full year of expansion since 2014 and with New Orders ending the quarter in fine shape there is every chance this form could be carried over into 2018."
On the inflation front, MNI Indicators said inflationary pressures at the factory gate remained high in December but did edge down to the lowest level since August.
by RTT Staff Writer
For comments and feedback: editorial@rttnews.com
Business News