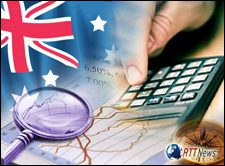 Australia posted a seasonally adjusted merchandise trade surplus of A$105 million in October, the Australian Bureau of Statistics said on Thursday – down 93 percent on month.
That was well shy of expectations for a surplus of A$1.4 billion, and it was down sharply from the downwardly revised A$1.604 billion surplus in September (originally A$1.745 billion).
Exports were down A$903 million or 3.0 percent on month to A$31.871 billion.
Non-rural goods fell A$1.074 billion (5 percent) and rural goods dropped A$85 million (2 percent).
Non-monetary gold surged A$362 million (24 percent), while net exports of goods under merchanting climbed A$12 million (25 percent) and services credits fell A$118 million (2 percent).
Imports gained A$596 million or 2.0 percent to A$31.766 billion.
Intermediate and other merchandise goods added A$385 million (4 percent), while consumption goods gained A$197 million (2 percent) and non-monetary gold jumped A$16 million (4 percent).
Capital goods lost A$120 million (2 percent) and services debits rose A$119 million (2 percent).
Also on Thursday, the Australian Industry Group said that the construction sector in Australia continued to expand in November, and at an accelerated pace, with a Performance of Construction Index score of 57.5.
That's up from 53.2 in October, and it moves further above the boom-or-bust line of 50 that separates expansion from contraction.
by RTT Staff Writer
For comments and feedback: editorial@rttnews.com
Economic News
What parts of the world are seeing the best (and worst) economic performances lately? Click here to check out our Econ Scorecard and find out! See up-to-the-moment rankings for the best and worst performers in GDP, unemployment rate, inflation and much more.